Is your roof leaking? Is the roof damaged or shingles are out of place? If so, you need to immediately call our roofing experts to get instant assistance. Our professionals provide you a complete roof diagnostic report defining the condition of your roof. Routine maintenance and repair is the key to acquire a long lasting roof. Edmonton Roof and Gutter Services are here to provide you our comprehensive repair solutions. We respond to any problems within 48 hours.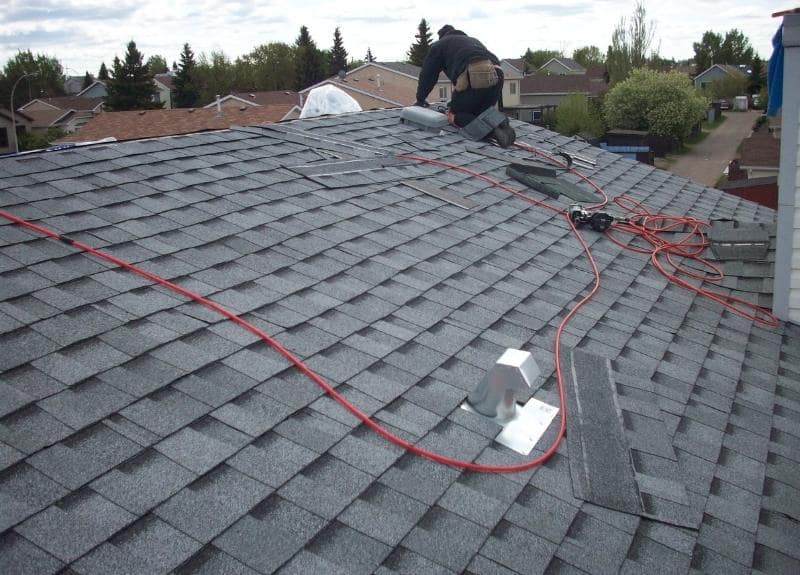 Is your roof leaking? Is the roof damaged or shingles are out of place? If so, you need to immediately call our roofing experts to get instant assistance. Our professionals provide you with a complete roof diagnostic report defining the condition of your roof.  Routine maintenance and repair is the key to having a long-lasting roof.
Edmonton Roof and Gutter Services is here to provide you with our comprehensive repair solutions. We respond to any problems within 48 hours.
Our Step by Step Procedure
Edmonton Roof and Gutter Services experts start by giving free estimates to homeowners.
Next, we check any Insurance claims and accept them.
Removal and disposal of existing shingles is carried out cleanly.
The eaves troughs and the grounds are cleaned next.
Water protection is installed at the eaves and valleys.
Roof deck rot is replaced efficiently.
Shingles are installed ( Fibreglass or Organic)
Rusted chimneys stacks are painted
The flashing around the skylights and fireplaces is upgraded
The Outside window panes are cleaned
5 years workmanship warranty offered with $2,000,000 liability insurance WCB coverage
Some Common Roof Problems
Roof Leaks
Some of the roofs have silent leaks that are discovered after the condition gets worse. Most of the homeowners do not pay due attention towards the roof and suffer heavy monetary and property loss later.
You need to consider some of the visible signs of leaks including water spots, patches, and peeled paint and so on. These signs lead to mold, dampening of wall, damaging insulation that eventually damages the whole infrastructure.
Blistering of Roofs
Blisters are caused when the gas gets trapped into the roofing layer. They are long and thin raised portions that damage the outer looks of the home or building. The heat from the sun expands the gas inside that creates bubbles inside the outer surface. Blisters are the initial signs of weakening.
Poor Installation
The main reason behind roof damage is poor installation. It is recommended to never rely on any amateur company for roof installation. The roofs that are poorly installed never last for a longer period of time often demanding frequent repairs and replacements.
Why Roof Inspection Is Crucial?
Roof inspection must be done in order to catch the possible signs of wrinkling, buckling at the earliest stage. Edmonton Roof and Gutter Services strongly recommend that homeowners to inspect their roofs twice a year.
During winter, snow, rain, summer, the roofs must be evaluated to analyze their condition. It is crucial to carefully inspect the roof finding and mend the minor problems before they get major. If you find any part damaged or peeled off, consult a pro immediately for instant assistance.
Edmonton Roof and Gutters Specialize in:
Commercial and residential roofing – repair, replace and install
Troubleshooting gutters and downspouts
Matching colors and materials on existing buildings
Free inspections and quotes
Installation and replacement of aluminum, wooden and vinyl siding
Replacement of windows
Exterior house painting
Patching of roofs
Staining and painting of decks and fences
Pressure washing
Professional experts at repairing storm damage to the exterior of your home or business!
Uniformed, professional and courteous staff
We Repair Following Types of Roofs
Modified Bitumen
Built-up roofs
EPDM
PVC
TPO
Flat Roofs
Asphalt Shingles
Slate
Metal
Wood
Safety and customer satisfaction is our priority. Our experienced and qualified professionals will make sure the roofs are repaired timely without any hiccups.
Contact Today for a FREE estimate on roof repairs.
Roofing Shingles Repair
We, at Edmonton Roof and Gutter Services, give due emphasis on selecting the right kind of shingles whenever you build a new roof. There are numerous kinds of roofing shingles available in the market. Homeowners have lots of options to choose from. You need to find out one that suits your pocket and your home architecture best. Shingles symbolize stability, quality and style in Canadian homes.
Advantages of Roofing Shingles
Top-quality asphalt and fiberglass products to adorn your place
Durable and can maintain their pristine condition reliably for many years
Special additives to resist algae, moss, UV rays
Crack, split and peel proof
Sturdy nature
Class A Fire Protection (most brands)
Numerous colors, brands, designs and styles
Easily adapt to any home style providing traditional to contemporary looks
Cost-effective and affordable
Easy to install and replace
Types of Roof Shingles
Asphalt Shingles
It is the most dominating roofing material these days. It is cost-effective and can easily resist any extreme climatic condition. You have an array of designs and colors to choose from. They are economical, durable and elegant.
Metal shingles
Metal shingles are sturdy and provide thermal resistance. They prevent leaks and require less maintenance. The cost of these shingles varies with the type of metal used in roofing.
Slate shingles
Slate shingles are a must if you desire to add luxury to your place. Rustic slate shingle roofing is quite popular among people. Synthetic slate roofing is cost-effective and easy to install. Apart from these many other materials are also available.
Wood Shingles
Wood shingles are the best alternative to give an aesthetic appeal to your place. You can choose from numerous colors, designs and materials to choose from. Call a roofing professional to know more about the latest quotes and designs available.
Shingle Installation
Low Cost Composition Shingle
On a roof, maximum of three layers of composition shingle can be installed. This type of installation can be done only after careful inspection. Three layers are maximum that can be load rest depends on the state's rules and regulations.
Medium Cost Composition Shingle
If there are too many layers already loaded, our experts will recommend to first removing the existing installing the new one. Our experts will effectively remove the old worn-out layers and place new and healthy shingles.
High Cost Composition Shingle
In olden houses, installing new shingles over the olden pre-existing wooden shingles is a complex chore. Thus, our experts would remove the existing ones carefully bringing back the elegant looks of the roofs. Our ultimate aim is to make our customers aware of their roofing needs. We assist our clients in finding the best shingles for their place. You can contact us to know much more about shingles and their types. Our representatives are happy to serve their best repair and installation services to Canadian homeowners.
Contact Edmonton Roof and Gutters for a free quote on roof repairs in Edmonton, Alberta.